Vietnamese Style Beef Meatball-Patties
Ingrediënten / Ingredients
1 lb ground beef We like to mix tasty cuts like Sirloin, Brisket and Skirt steak; approx. 80/20 lean ratio
2 tbsp finely chopped lemon grass Cut top leaves + root part off; remove any dry outer layers; smash + chop finely Substitute: half Lemon/half Lime zest
2 tbsp chopped cashew nuts
1 tbsp minced shallot
1 tbsp minced fresh garlic clove
2 tbsp Siracha sauce (optional)
DIPPING SAUCE
¼ cup shredded carrot
2 tbsp sugar
2 tbsp Thai fish sauce
½ cup lime juice (freshly squeezed guarantees best taste)
1 tsp Siracha (optional)
16 snappy green lettuce leaves for serving.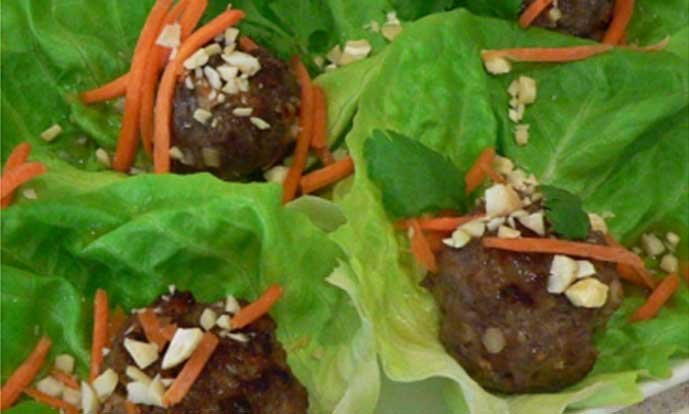 SPRINKLES
Chopped Mint, Cilantro, and more nuts
Stir sauce together and let carrots marinate.
Combine beef with listed ingredients and form into 1.5 inch diameter balls. Then flatten slightly into mini patties (about ¾ in thick) and make small pinki-finger size indentation in the center. Arrange on platter. Place washed + dried lettuce leaves on individual plates or platter.
Preheat the Qookingtable on #5. When reached – orange light off – set temperature to #8. When reached – orange light off – place meatballs onto the cooking center. Space out evenly so they can brown nicely. Use thin spatulas or tongs for turning.
Fry for 4 to 5 minutes on each side – no cooking oil necessary. Food will loosen all by itself for turning. After 4 minutes center should be slightly pink, 5 minutes will produce well-done meatballs
To keep meatballs warm, push them in the outer warming area and set temperature to #3.
TIP: Drizzle with sauce; form individual pockets from lettuce leaves and secure with toothpicks. Experiment with different dipping sauce flavors, e.g. Sweet Chilli or Terriyaki. Enjoy!