Lamb Meatballs Middle-Eastern Style with Tahini Yoghurt Dip
Ingrediënten / Ingredients
1 lb ground lamb
½ cup breadcrumbs
½ cup chopped parsley
1/3 cup onion, minced
2 garlic cloves, minced
1 tsp lemon zest, grated
1 egg
1 tsp ground coriander seed
1 tsp kosher salt
½ tsp cinnamon
½ tsp ground allspice
½ tsp cayenne
TAHINI YOGHURT DIP
1 cup plain yoghurt
¼ cup tahini (paste made from Sesame seeds
2 tsp lemon juice
1 tsp olive oil
Salt to taste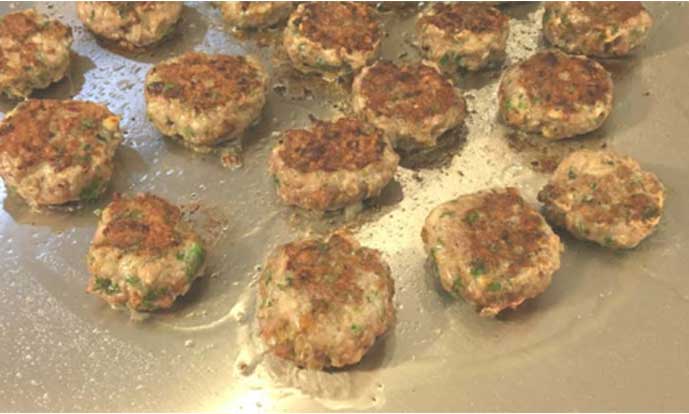 Combine meatball ingredients and form into 1.5 inch diameter balls. Then flatten slightly into mini patties (about ¾ in thick) and make small indentation in the center. Arrange on platter + chill.
Preheat the Qookingtable on #5. When reached – orange light off – set temperature to #8. When reached – orange light off – place meatballs onto the cooking center. Space out evenly and give them room so they can brown nicely. Use thin spatulas or tongs for turning.
Fry for 6 to 7 minutes on each side – no cooking oil necessary. Food will loosen all by itself for turning. After 5 minutes center should be slightly pink, 7 minutes should produce well-done meatballs.
To keep warm, push them in the outer warming area and set temperature to #3
TIP: Try Humus Dip Drain and rinse 1 can garbanzo beans, reserve ¼ cup liquid. Blend beans with 2 garlic cloves, ¼ cup lemon juice, ¼ cup olive oil and reserved bean liquid. Drizzle with virgin olive oil to taste.
You can also serve Tzatziki (yoghurt, cucumber, mint, garlic) or easy Dill-Yoghurt dip made with 2 tbsp chopped fresh dill and 1 tsp lemon zest.